Giving Back to Our Community & Free Rewards Program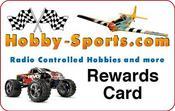 Free Rewards Program
Thank you for supporting Hobby-Sports.com.  We appreciate the business! It's that easy! You will earn a $5.00 Reward Credit for every $100.00 in purchases. Reward credits can only be redeemed at $5.00 at a time and once per day. Rewards earned never expire and are not redeemable for cash.
Giving Back to Our Community
Hobby-Sports.com presents rewards members the opportunity to donate their unredeemed rewards to help struggling families enjoy more of the fun hobbies we take for granted every day. To make your donations go further, Hobby-Sports.com will match your donations dollar for dollar. This year-round program is to help with birthdays, special events, schools, and more. Hobbies can help relieve stress, boredom, and poor mental health and keep families engaged in one another. Southwest Michigan will benefit from your support. To donate, please email Rex – info@hobby-sports.com  or come into the store and ask to speak with Steve. 
Thank you for investing in us so we can invest in our community.
Your family at Hobby-Sports.com